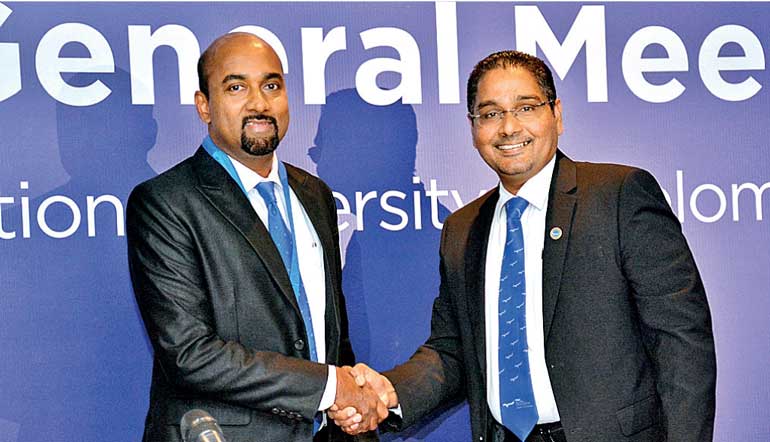 University of Colombo MBA Alumni Association new President Chandima Samarasinghe (left) being congratulated by out-going President Boshan Dayaratne
---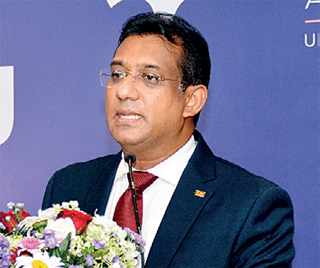 LOLC Finance Non-Executive Chairman Conrad Dias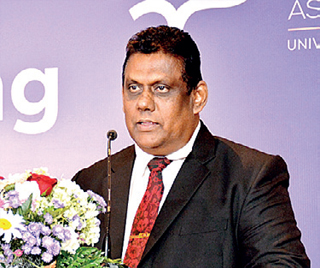 University of Colombo Vice Chancellor Prof. H.D. Karunaratne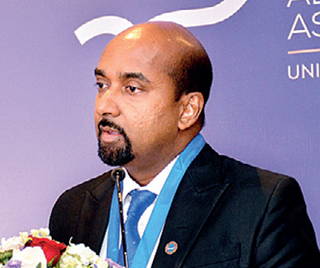 University of Colombo MBA Alumni Association President Chandima Samarasinghe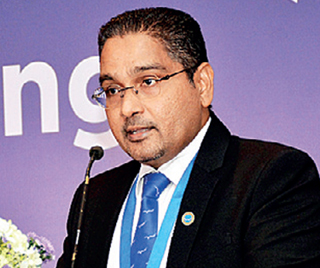 University of Colombo MBA Alumni Association Past President Boshan Dayaratne
---
At the 25th AGM of the MBA Alumni Association, University of Colombo, Chandima Samarasinghe was chosen as the President for the ensuing year at a ceremony held at Hilton Colombo Residences on 23 June.

Chandima, a longstanding member of the Association has contributed substantially in diverse ways for the progress of the Association. He held the chairmanship of several committees over the years and in 2021, he was elected Deputy Chairman.

Chandima, an engineer by profession, is with Diesel and Motor Engineering Plc (DIMO) where he is in charge of the Water Projects and Fluid Management business cluster and, the hands-on man he is, visits every project site regularly. His close contact with the workforce and the local and foreign principles of work-study, management and project feasibility, has endeared him to his commitment at DIMO, so much so that recently the company gave him added responsibility as Chief Operating Officer.

The Colombo University MBA Alumni Association will have Chandima's practical expertise and his humble willing work experience at their disposal. He has a willing ear to listen and strong hands to implement.

In accepting office Chandima promised to do his best to his duty for the Association and the membership. Chandima succeeded Boshan Dayaratne who completed a successful year.

The Guest of Honour, Vice Chancellor Senior Professor Karunaratne then addressed the meeting. He was pleased with the progress of the Association and promised that the university should work together with all alumni for the good of all.

The Chief Guest was LOLC Finance Plc Chairman Conrad Dias and in his address at the gathering he drew attention to the technological revolution that is taking place and how the world will be a different place with robotics, artificial intelligence and 3D printing.

The AGM concluded with fellowship.

The Colombo University MBA Alumni new team for 2022/23 year comprises of Chandima Samarasighe (President), Kulendran Sivaram (Deputy President), Prabath Kaushalya (Vice President), Suraj Radampola (Secretary), Chethana Liyanage (Assistant Secretary), Senaka Ekanayake (Treasurer), Nishani Ekanayake (Assistant Treasurer) and Boshan Dayaratne (Immediate Past President).

The Ex-Co members are Upali Ratnayake, Vidushan Premathiratne, Chamila Cooray, Pavithra Samarasinghe, Waruna Jayathilaka, Hema Mayadunna, Kumudumalie Alwis, Bonali Perera, Shanaka Wijesinghe, Ajith De Silva, Pradeep Gunasekara, Maithree Attanayaka, Sanjeewa Buwanakabahu. Trustees are Jude Silva, Saranga Wijeratne and Lalith Sumanasiri. Ex-Officio Members are Past Presidents Thusitha De Silva, Prasad Jayasuriya, Ranga Ratnayake, Sarma Mahalingam, Rohana Ellawala, Neil De Mel, Anusha Wijegunaratne and Pubudu De Zoysa.
Pix by Upul Abayasekara